The Rhinovo product brand also includes table trucks, industrial trolleys, aerial order pickers, and other primary essential industrial material handling equipments.  The products are used for easy stacking of pallets and simple shifting of items from one place to another within a warehouse setting, so that businesses are more productive.
Manual Hydraulic Table Trucks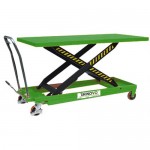 Range
150 Kg
300 Kg
500 Kg
500 Kg – Long Platform
700 Kg
1000 Kg
Electric Hydraulic Table Trucks
Table Truck
Rhinovo table trucks offer diverse lifting height, load capacity and table platform sizes to meet fundamental and essential material handling requirements. The table trucks have accessible flexible functions, and can be simply and conveniently used for multiple usages such as lifting and lowering materials, level compensation when lifting machines, installations in conveyor system.
Scissor Lift Pallet Truck
Rhinovo scissor lift pallet trucks are designed to use as basic lifting table, marshalling table, work bench or as a standard hand pallet jack. The scissor lift pallet trucks are tough, durable and provide comfortable handling and grip.
Rhinovo industrial trolleys are generally used for simple and basic transporting of light weight goods.

Model
RE150T-R
RE300T-R
Capacity
Kg
150
300
Platform height
mm
135
250
Handle height
mm
820
910
Overall width
mm
472
610
Overall length
mm
725
950
Roller Size
mm
102
127
Roller Type
Rubber
Rubber
Rhinovo aerial order pickers provide high efficiency, productivity and easy operation. The compact design aerial order pickers are frequently used for warehouse, or basic installation and maintenance. Operators can swiftly and conveniently collect the goods that are positioned at high levels on the warehouse industrial rack and shelf.