Rhinovo Brand
Rhinovo first started up in Year 2009, established in Singapore. The brand specializes in basic and essential material handling equipments.
The Rhinovo product brand include pallet jacks, stackers, table trucks, scissors lift pallet jacks, aerial order pickers, and other primary fundamental industrial material handling equipments.
---
New Product Launch!


The brand name is Trolley.sg
Trolley.sg specializes in quality and affordable industrial trolley.
Trolley.sg strives for Quiet, Light and Durable Industrial Trolley.
Our Products
---
Meet our 2015 Mascot Rivo!
"Hello! My name is Rivo, and I am so proud to be the exclusive mascot of Rhinovo. I have the qualities to represent the Rhinovo brand as we share similar personalities and strengths. I like simplicity. I am focus, diligent, innovative, proactive and forward-looking. I set very high standards for myself. I stay unique and different. We both love green…"

Promising SME 500 2014
Rhinovo is recently nominated as one of Singapore's most promising SMEs.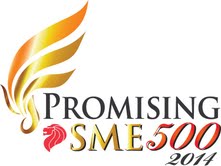 The Promising SME 500 Campaign was spearheaded to recognize the exceptional achievements of business men and women in Singapore, highlighting their commercial success and also recognizing their contributions to the economy and the community at large.