Rhinovo Brand
Rhinovo specializes mainly in Green Material Handling Equipment.
Rhinovo is one of the earliest and highly energetic trendy brand in the 21st century that is born with the aim of saving the environment. The Rhinovo brand is recently launched in Singapore, Australia and Malaysia, and eagerly seeks to build more presence globally. Our products ranges from Pallet Jack, Trolleys, Electric Stackers, Hand Pallet Trucks, Electric Forklift & many other machines for industrial usage.

Our Products

Promising SME 500 2014
Rhinovo is recently nominated as one of Singapore's most promising SMEs.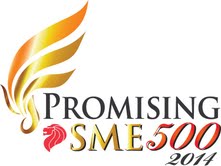 The Promising SME 500 Campaign was spearheaded to recognize the exceptional achievements of business men and women in Singapore, highlighting their commercial success and also recognizing their contributions to the economy and the community at large.