Rhinovo Brand
Rhinovo first started up in Year 2009, established in Singapore. The brand specializes in basic and necessary material handling equipments, especially in pallet jacks and stackers.
The Rhinovo product brand also includes table trucks, industrial trolleys, aerial order pickers, and other primary essential industrial material handling equipments.
The products are used for easy stacking of pallets and simple shifting of items from one place to another within a warehouse setting, so that businesses are more productive.
All Rhinovo brand products are consistently coated in the same exclusive green corporate brand tone.
The brand's aim is to provide better value, quality, ease-of-use and convenience to customers at a reasonable affordable cost, so that customers can always stay competitive, efficient and more productive.
Rhinovo is nominated as one of Singapore's most promising SMEs in Year 2014.
Our Products
---
Meet our 2015 Mascot Rivo!
"Hello! My name is Rivo, and I am so proud to be the exclusive mascot of Rhinovo. I have the qualities to represent the Rhinovo brand as we share similar personalities and strengths. I like simplicity. I am focus, diligent, innovative, proactive and forward-looking. I set very high standards for myself. I stay unique and different. We both love green."

Promising SME 500 2014
Rhinovo is recently nominated as one of Singapore's most promising SMEs.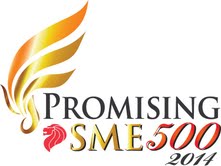 The Promising SME 500 Campaign was spearheaded to recognize the exceptional achievements of business men and women in Singapore, highlighting their commercial success and also recognizing their contributions to the economy and the community at large.