Rhinovo Brand
Rhinovo first started up in Year 2009, and specializes mainly in green material handling equipment. The range of products includes the general hand pallet trucks, electric and manual stackers, table trucks, industrial trolleys, aerial order pickers, etc. The brand's aim is to focus on the electric oriented material handling equipment, due to its environmentally friendly related benefits.
All Rhinovo products are coated in the same green corporate brand tone. The products are used for stacking of pallets and shifting of items from one place to another within a warehouse setting, so that businesses are more productive.
We strive to provide more value, quality and convenience to our customers, at a reasonable affordable price."
Our Products

Promising SME 500 2014
Rhinovo is recently nominated as one of Singapore's most promising SMEs.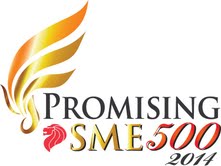 The Promising SME 500 Campaign was spearheaded to recognize the exceptional achievements of business men and women in Singapore, highlighting their commercial success and also recognizing their contributions to the economy and the community at large.